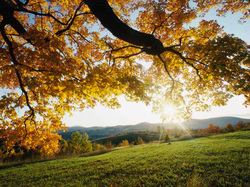 As Fall Looms... the Sunshine we all experience and bask in each day is fading fast!

Vitamin D is most widely known as the "sunshine vitamin" because our bodies are able to make vitamin D when exposed to sunlight for a short period of time.

Vitamin D is currently one of the most actively studied nutrients. Researchers are learning that Vitamin D goes further than simply regulating bone health.
The areas of promising success that have been revealed for the sunshine vitamin:
Protection against some types of cancer, including breast, prostate and even greater success in the area of colon/rectal cancer
Reduces risk of inflammation and inflammatory diseases
Protects against auto-immune diseases
Inadequate levels of prenatal vitamin D has been linked to asthma in infants and young children
Low levels of vitamin D linked with epidemic influenza

As the wonders of Vitamin D emerge there is much confusion and contradictions of safety levels with Vitamin D
The original RDA was set for 200 IU's for children and 400 IU's for adults. The new standards have increased to 400 IU's for children and 600 IU's for adults. However, during winter months when sun exposure can be non-existent for us in the Northern region, it is being advised that 10x the recommended daily dose is safe.
A good rule of thumb for calculation of vitamin D needs:
A child weighs 25 pounds 35 IU's Vitamin D X 25 lbs.= 875 IU's
875 IU's of Vitamin D would be a safe dose to be given during
winter months or during times of immune distress.
Although supplementation is on the rise, we can't forget Vitamin D can still be consumed through...
Exposure to sunshine, the highest point of the day is best, for 15 minutes (15 mins is equivalent to 10,000 IU's of Vitamin D) You can see why new research is in demand for the current standards!
Foods- Cod and Cod Liver oil (1 tsp is equivalent to 450 IU's); Tuna, Eggs, Cheese, Fortified Milk and Cereals are also great resources for Vitamin D
It is best to have blood work ordered to check Vitamin D levels before you begin a regime of supplementing with Vitamin D. If blood tests are not an option you can try this "folk remedy"- Press thumb on sternum or midsection of breast bone if tender there is a good chance you are low in Vitamin D, same with shin bones- press thumb mid shin bone and if tender again, a good chance you are low in Vitamin D.