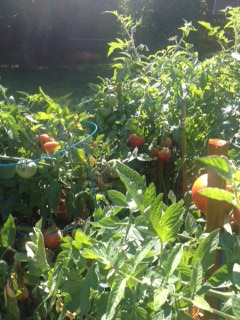 End of July- organic boxed garden in my backyard!
With this summer's rainfalls and sunny mild days, the local backyard tomato plants are in full yield this year. My organic garden boxes are full of tomatoes and peppers... 1st batch of canning completed this weekend!


Tomatoes are called a Superfood by many, they pack a punch when it comes to vitamins, minerals and antioxidants. They report 29% of Vitamin A and 38% of Vitamin C daily value along with the antioxidant lycopene. And lycopene research has recently found an important connection to bone health and the consumption of lycopene. It has also been proven that the lycopene in tomatoes has cholesterol lowering qualities- LDL cholesterol and triglycerides. Tomatoes are known to be an overall heart healthy food!


So here's to you fellow Canners... Lycopene qualities have not been shown to decrease or be eliminated during the cooking or canning process of tomatoes; in fact the opposite has been found true, it tends to become more concentrated!

With all the health benefits of tomatoes is it possible that they can also be found to adversely effect certain individuals? You have heard of the term "night shade vegetables"???? Night shades belong to the Solanaceae family of foods which includes some of the most popular foods in today's culture. However, one of the major problems coinciding with "night shades" is arthritis, according to Dr. Norman Childers, founder of "Arthritis Night Shade Research," "Night shade vegetables appear to be a factor in the etiology of arthritis and other inflammatory conditions." As with most research today there are always differing findings, according to expert Mark Erwin, Assistant Professor of Orthopedic Surgery at the University of Toronto, "there is absolutely no research to back this theory... the evidence is mostly anecdotal."

So... let this be your guide- over the years during August - September I hear from many clients that, "I am achy, I am tired, I am lethargic and hurt all over it seems..." We many times attribute these complaints to getting kids back to school, being tired from a busy summer etc... However, upon further discussion, review of food logs and dietary recalls 9 times out of 10 these same people report an increased intake of fresh garden foods with tomatoes being consumed at a much higher volume than compared to the rest of their year. So, do tomatoes cause an increase in inflammatory responses, fatigue and/or arthritic discomforts? My answer- "how do you feel after eating a larger volume of fresh tomatoes?" If you consume a larger volume of tomatoes and/or night shade vegetables and notice an increase in the above discomforts or complaints, then tomatoes may not be considered a Superfood for you! Let YOU be YOUR guide... "in all things moderation."

So is your garden, like mine, overflowing with tomatoes, eat them in moderation as a wonderful Superfood and gather family and friends over and create a warm space for a day of canning sharing the excess gift of your garden with family and friends!