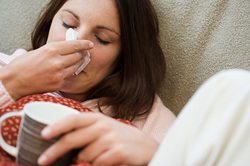 Fall is famous for being the season for colds and flu. Getting sick in the fall can set up your immune system to struggle all winter. The immune system, once weakened, has to spend the winter months catching up and rebuilding. Being prepared to fight through the fall cold and flu season will help set up your immune system, ensuring it's better able to fight the winter flu season.
Although last season, due to the mild temperatures, had a later and milder flu season, don't expect the same luxury this year! According to the
Farmer's Almanac
, Indiana weather for the winter of 2013 is expected to range from colder than normal, with mixed sleet, snow and rain in the central and southern regions to cold and snowy in the central to northern regions.
It's too early to predict the exact virus strains that will be predominant this year or the severity of this flu cold season, but one fact remains unchanged; flu and colds are viral based. The virus has a 2-3 day incubation period but symptoms and the active virus can last up to 10-14 days. Prevention and early care are the best measures for handling the common flu and cold season.
Prevention means early care when symptoms first appear:
Keep hydrated

Keep sinus irrigated by using a netti pot with colloidal silver and/or sinus salts

Avoid sugar. Sugar can drop the immune system by 50% within 2 hours of consuming and last up to 5 hours.

Never underestimate the power of REST

Garlic tea

Mustard pack
Don't forget to stock up this month on our Cold/Flu products –
20% October ONLY
!