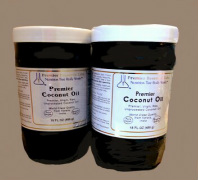 Coconut oil has many of helpful uses for you and your family during the summer months.
Below is a list we've compiled with just a few of these great uses:
To help increase sun tolerance and avoid burning - 1/4 cup coconut oil melted in a cup of herbal tea per day- the Medium Chain Fatty Acids and saturated fat are easily utilized by the body for new skin formation and are protective against burning

As a naturally SPF 4 sunscreen (*see recipe below).

After initial heat is gone, can help speed healing of sunburn

To lighten age spots when rubbed directly on the skin

Rubbed on lips as a natural chap stick

A tiny dab rubbed on your hands and then through hair will help get rid of friz (caused by humid, summer weather)
Mixed with equal parts sugar for a smoothing body scrub (use in the shower)
Rub coconut oil on the inside of your nose to help alleviate allergy symptoms

Ingesting coconut oil daily can help with allergy symptoms

Whipped with shea butter for a soothing body balm

In any of those summer recipes where vegetable oils are used

Makes for a delicious tropical massage oil

Mixed with salt to remove dry skin on feet

Can reduce the itch of mosquito bites

As a natural shave cream and after shave lotion

When used consistently on skin it can help get rid of cellulite

To help soothe the itch of poison ivy

Mixed with catnip, rosemary or mint essential oils as a natural bug repellent
Recipe for Natural Suncreen
(from http://wellnessmama.com/2558/natural-homemade-sunscreen-recipe/)
Ingredients:
1/2 cup almond or olive oil (can infuse with herbs first if desired)

1/4 cup coconut oil (natural SPF 4)

1/4 cup beeswax

2 Tablespoons Zinc Oxide (This is a non-nano version that won't be absorbed into the skin. Be careful not to inhale the powder). This makes a natural SPF of 20+ or more can be added.)

Optional: 1 teaspoon Vitamin E oil
Optional: 2 tablespoons Shea Butter (natural SPF 4-5)

Optional: Essential Oils, Vanilla Extract or other natural extracts to suit your preference

Directions:
Combine ingredients except zinc oxide in a pint sized or larger glass jar. I have a mason jar that I keep just for making lotions and lotion bars, or you can even reuse a glass jar from pickles, olives or other foods.

Fill a medium saucepan with a couple inches of water and place over medium heat.

Put a lid on the jar loosely and place in the pan with the water.

As the water heats, the ingredients in the jar will start to melt. Shake or stir occasionally to incorporate. When all ingredients are completely melted, add the zinc oxide, stir in well and pour into whatever jar or tin you will use for storage. Small mason jars (pint size) are great for this. It will not pump well in a lotion pump!

Stir a few times as it cools to make sure zinc oxide is incorporated.

Use as you would regular sunscreen. Best if used within six months.

Additional notes:
This sunscreen is somewhat but not completely waterproof and will need to be reapplied after sweating or swimming

Make sure not to inhale the Zinc Oxide- use a mask if necessary
This recipe has an SPF of about 20, though adding more Zinc Oxide will increase the SPF

Add more beeswax to make thicker sunscreen, less to make smooth sunscreen

I recommend coconut or vanilla extract or lavender essential oils for fragrance

Store in a cool, dry place or in the fridge

I prefer to store in a small canning jar and apply like body butter. It will be thicker, especially if you use coconut oil in the recipe.

Remove the Zinc Oxide and this makes an excellent lotion recipe!