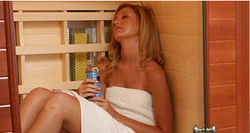 How do Toxins Affect me?
Numerous toxins are absorbed and stored in our bodies from personal care items, food, pollutions, etc. Toxic gases like sulphur dioxide, carbon dioxide and substances like lead, mercury and chlorine are encapsulated by large water molecules. When toxins are present in the body, blood circulation is blocked and cellular energy is impaired. The body's immune system is inhibited, which makes it difficult for the body to fight disease. However, when 10 microns of far-infrared is applied, the large water molecules vibrate and break down the ion bond, releasing the encapsulated gases and toxic materials. Far-infrared heat has been used in the treatment of clogged capillary vessels; this heat expands the capillaries and skin pores to expel toxins from the body.
How do Far-infrared heat waves work?
Traditional saunas, found in health clubs, etc., use wet heat to an excess of 200 degrees Fahrenheit, which can make it difficult to breathe and body is warmed on the skin surface and superficial muscles. The high humidity causes perspiration to form on the skin, limiting the body's natural ability to expel toxins. In contrast, TheraSauna produces a radiant heat that penetrates as deep as two inches below the skin for deep muscle therapy. The heat warms the body directly, not the air.
Your body will produce up to 3x's more perspiration with infrared than with conventional saunas. This natural process rids your body of harmful toxins and mineral waste, in turn strengthening its natural immunity. TheraSuana uses a safe, radiant infrared heat source similar to those used by doctors and physical therapists. Infrared heat is so safe that it is used in incubators to warm newborns and effectively used in major league sports therapy.
Benefits of Infrared heat waves:
Dilates blood vessels and capillaries providing increased flow of rich oxygenated blood to muscles and joints (improves circulation and strengthens cardiovascular system)

Natural pain relief…infrared heat works by penetrating joints, muscles and tissues, increasing circulation and speeding oxygen flow

Reduce muscle spasms and promote healing of injured and sore muscle fibers (muscle relaxation and flexibility)

Aids in cell health, muscle recovery and overall immunity defense

Improves flow of the lymph system to reduce swelling and inflammation

Creates a deep and detoxifying sweat and body cleanse

Stimulates cellular and enzyme activity (increase energy)

Natural way to lower blood pressure.
Safe and effective in recovering damaged blood vessels and improving heart functions. Great for clients with high blood pressure, diabetes or high cholesterol

Reduces stress & fatigue

Helps rejuvenate your skin

Added bonus…Your body burns 300-600 calories during a 20-30 minute session!
When we decided to invest in an infrared sauna at Rivers Edge, we wanted to make sure we offered our clients the best available on the market. Through extensive research we decided on the TheraSauna®, made with non-toxic and non-allergenic Aspen Hardwood. Infrared energy heats objects (like your body and the inside wood of the sauna) directly and penetrates up to 2 inches below the surface. Cedar and redwood contain a natural insecticide within the wood called turpines. When these naturally occurring oils within the wood are heated, they gas off a substance called cedrine. Cedrine attacks the central nervous system of insects and kills them. It can also cause vomiting and convulsions in humans. TheraSauna® is made of Aspen, which is clear wood grown at elevations where trees do not produce insecticide. Aspen is 99% non-toxic and non-allergenic.
Health concerns related to different types of woods used in saunas…
Aspen – No health effects.

Cedar – Asthma, allergic contact dermatitis sensitizer, decrease in lung function, eye irritation, conjunctivitis, rhinitis, convulsions, vomiting and effects on the central nervous system.

Hemlock – Skin irritation, decreased lung function, rhinitis.

Basswood – Skin irritation.

Birch – Irritation dermatitis.

Spruce – Skin irritation, wood pulp workers disease.

Oak – Nasal cancer.

Pine – Skin irritation.

Poplar – Contact dermatitis, rhinitis.