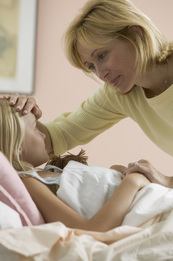 This time of year is rough on most of us, but for many, suffering from low immunity, warding off all of the cold and flu germs is nearly impossible. . .
Here are some indicators that you might have low immunity:
More than 2 colds per year

Constant fatigue, tiredness over a 6 month period

Insomnia

Fungal infections

Bacterial infections

Allergies

Benign growths

Vitamin D Levels down

Swollen lymph glands

A low immune function refers to an under-active and poor performing immune system. The immune system's primary function is to protect the body against fungus, yeast, bacteria, and virus invaders. Support and enhancement of the immune system is the most important step in achieving resistance to the flu and cold season.
And don't forget, as I mentioned in my last blog,
avoid sugar
. Sugar can drop the immune system by 50% within 2 hours of consuming and last up to 5 hours. Also,
get plenty of sleep
. Your adrenal glands need time to reset, a
minimum
of 6 hours every night for adults and more for children and teens.
Check out this list of
suggested supplements
to help you get through the cold and flu season!