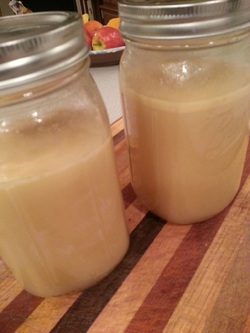 First and foremost, bone broth has been around for centuries. It was the way our ancestors made use of all that was provided for them. Bone broths are staples in the traditional diets of every culture and the basis of all fine cuisine. It is nutrient rich, easily digested, promotes healing and full of flavor. Like many folk remedies that have become the latest trend...bone broth is at the top.

Bone broth is a mineral rich infusion made by boiling the bones of healthy animals. You can also add vegetables, spices and herbs for flavor and added minerals. Bone broth differs from your average stock. Let's look at the differences.

Broth- Typically made with meat and a few bones. It is boiled for a short amount of time, 30-45 minutes. It produces a great flavor.

Stock- Made from meat, bones and some spices, vegetables and herbs for a period of 2-3 hours. It will be rich in minerals and some gelatin will be produced.

Bone broth- Differs by the amount of cooking time. Bone broth is typically cooked 12 to 24hrs. (I add spices, herbs and vegetables for extra flavor). The extended cooking time allows as many minerals and nutrients to be removed from the bone as possible. Additionally, healthy amounts of gelatin will be produced.

The minerals are ones that the body can easily absorb. According to Sally Fallon's book Nourishing Traditions, "Bone broth contains calcium, magnesium phosphorous, trace minerals and amino acids. It also contains the broken down material from cartilage and tendons; thus, producing chondroitin and glucosamine… These things," Sally states, "are inexpensive supplements that you can easily and more cost effectively get from bone broth." So now you see why bone broth has been used as an anti- inflammatory for the treatment and repair of arthritis, joint pain and other degenerative bone diseases.

Because the minerals are so bio-available for absorption, Dr Natasha Campbell-Mcbride the author of the book Gut and Psychology Syndrome believes, "bone broth is a basic tool in healing the gut lining." She states, "we are experiencing an epidemic of mental disorders that include autism, dyslexia, ADD and ADHD." Most of the following disorders also coincide from digestive disorders, such as asthma, eczema, ear infections, allergies and chemical sensitivities. She believes there is an inability in the gut to digest and absorb food properly and typically those with gut dysfunction have severe nutritional deficiencies. Dr Campbell-Mcbride believes that nutritional deficiencies prevent the brain and immune system from functionally normally. She also noted that 84% of the immune system is in the gut and that 80-90 % of the neurotransmitters (ie seratonin) are in the gut. One of the basics of her protocol to heal the gut lining and restore gut health is the use of bone broth.

One of the greatest healing properties of the broth is the collagen. You probably have seen the jiggling top layer of a cooled roasting pan and discarded it, that is collagen. Collagen is the protein found in connective tissue, it is abundant in the bone, cartilage, tendons and ligaments. The breakdown of the collagen in broth is what produces gelatin.

Gelatin facilitates the healing of the gut lining; thus, it is important for the protocol in gut disorders such as IBS, crohns, ulcerative colitis, acid reflux and food allergies. Gelatin also promotes probiotic balance and maintaining proper levels of gut flora. Because bone broth increases collagen naturally it can reduce the appearance of wrinkles and facilitate the reduction of stubborn cellulite. Cellulite comes from a lack of connective tissue, those with smooth skin have an increased level of connective tissue. Consuming collagen rich bone broth is known to decrease cellulite and smooth skin resulting in you looking younger!

Many people are exchanging their morning cup of coffee for a healing cup of broth. Best results are found when 8oz of broth are sipped daily. You can achieve this also by always having bone broth around as a base for your favorite soup recipes.

Bone broth is very easy to make using beef, turkey, chicken or fish bones. I use the carcass of a turkey or chicken I have made. I get my beef bones from my local Whole Foods (in an attempt to ensure that they are grass fed) or order on-line from US Wellness Meats or Tropical Traditions.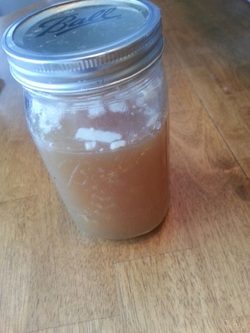 Bone Broth Recipe:

*You can also just boil the bones without anything else added if using the broth for a favorite recipe

1 carcass or 2-3 pounds of beef bones

3 quarts of water (or enough to cover the bones completely)

1 onion (I usually leave out the onion because I give my dogs broth every day)

3 carrots

2 stalks of celery

2 tablespoon apple cider vinegar (helps de-mineralize the bones)

Adding herbs and spices to taste and simmer on stove or in Crockpot for 12-24 hours

Once the broth is done strain into containers

*After my broth is done I generally put it in glass jars, storing in the refrigerator for 3-4 days. If I have enough that will last longer than 4 days I freeze it in the glass jars for later use.

*If time is an issue, "Pacific" brand has a wide variety of bone broths to choose from. Homemade is always best… but you can still enjoy these benefits of bone broth!


Beef Soup Recipe:

1 lb. grass fed beef

6 cups bone broth

4 cups fresh water

1 large organic onion

4 organic carrots

3 organic celery stalks

3 medium red potatoes (optional)

Sea salt to taste

1 tsp. thyme

1 tsp. oregano

1 tsp basil

Sauté onions at medium heat. Add chopped celery and continue to sauté. Add carrots and potatoes. Sauté until ingredients are tender. Add sea salt and spices. Transfer to stove top or crock pot. Add meat.