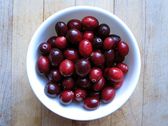 ​November is Gluten Free Awareness month and to prepare you for the upcoming holidays, Rivers Edge is offering Similase® GFCF Gluten and Casein Digestive Enzymes for 25% off for the month of November. For some, hidden gluten and casein can be the cause of bloating, abdominal cramping, pain, gas and indigestion. However, the right digestive enzyme this holiday season can make a difference when trying to support a gluten free or casein free diet.
The digestive system requires a variety of enzymes to break down food into simple componets that can be used by the body. Gluten and casein can be particularly difficult to digest.
Similase® GFCF provides a wide range of enzymes, including DPP IV, to break down hidden gluten and gliadin (protiens in wheat that are essential for giving bread the ability to rise during baking) in foods. These enzymes are active across a broad pH range in the digestive tract.
Similase® GFCF gluten and casein digestive enzymes is a combination of plant enzymes to support complete digestion of all types of nutrients, such as carbohydrates, proteins, and fats with targeted support for the digestion of gluten and casein. This formula contains no animal products in the ingredients or the capsule components; it is a vegetarian formula.
This enzyme professes to:
* support a gluten-free casein-free lifestyle
* support digestion of gluten and casein
*relieve occasional acid indigestion, gas, bloating, and constipation
* support healthy immune function when consuming accidental or hidden gluten in food products
* aid DPP IV activity
So, why might this support be helpful? First, we must understand what gluten and casein are and observe our individual responses when consuming them.
Gluten is a combination of the proteins gliadin and glutenin, and is found in grass-related grains, such as wheat, barley, and rye. As mentioned above, gluten can also be found in many processed foods, such as rice mixes and french fries; even the adhesives on envelopes can contain gluten, strange right?
Some people do not digest gluten well, which leads to a host of symptoms. Scientists speculate that the modern processing of grains can make them even more difficult to digest.
Likewise, casein, a protein found in milk and also used as a binding agent, is sometimes implicated in digestive discomfort. One of the peptides of casein, casomorphin, is similar to gliadin in chemical structure, making it difficult to digest. Difficulty digesting casein is different from lactose intolerance. Lactose is the sugar portion of milk. In fact, many products developed for people who are lactose intolerant may still contain caseins!
When the digestive system has difficulty digesting gluten or casein, it may manifest in many ways, including gas, bloating, occasional loose stools or constipation, and occasional fatigue or discomfort.
Many people have gone on gluten-free and/or casein-free (GFCF) diets to support their health. However, staying gluten free/casein free can be difficult as they are found in many processed foods--even something as simple as chewing gum can have gluten in the powder used to keep the gum from sticking to its wrapper. Casein also hides in unsuspected foods, such as fast food french fries.
Similase® GFCF is specifically formulated to defend against hidden gluten.
Sources for above:
https://www.pureprescriptions.com/similase-gfcf-integrative-therapeutics-inc/p1083 https://www.integrativepro.com/Products/Enzymes/Similase-GFCF
​
Being proactive in your exposure to triggering foods is only the first step this holiday season. Meals offer a common gathering and place for joy and celebration; having food sensitivities does not negate delicious options. The second step is to plan ahead dishes that you too may enjoy. Some personal favorites are noted below:
Cranberry-Maple Sauce
2 c. fresh cranberries
1 c. maple syrup
1 c. water
1/4 tsp. ground allspice
Combine all ingredients except the allspice in a saucepan.
Bring to a boil, then turn down to a simmer. Cook for about 15 minutes or until berries have burst and sauce begins to thicken. Stir in the allspice, cook and serve at room temperature. The flavor is best if made at least several hours before serving.
from
Spirit of the Harvest--North American Indian Cooking
​
Cauliflower Mushroom Dressing
*As this contains meat, it should NOT be stuffed in the turkey to cook. This works best in a two step process, stove top to oven, but if pressed for time, it may be completed on the stove top.
1 head cauliflower cut into florets 2 eggs lightly beaten
2 T. olive oil 1 tsp. ground sage
1/2 lb. loose pork sausage 1 tsp. ground thyme
4 oz. mushrooms sliced 1/2 tsp. sea salt
3 ribs celery, chopped 1/4 tsp. ground black pepper
1 small onion, finely chopped 2 T. ground golden flaxseeds
2 c. shredded mild cheddar cheese
Preheat the oven to 350 F. Grease a 2 1/2 qt. baking dish.
Place a steamer basket in a large pot with 2" of water. Bring to a boil over high heat. Add the cauliflower to the basket and steam for 5 minutes, or until tender-crisp.
Meanwhile in a large skillet over medium heat, heat the oil. Cook the sausage, mushrooms, celery, onion, and garlic for 10 minutes, stirring, or until the sausage is cooked and the vegetables are softened. Remove from the heat. Stir in the cauliflower, cheese, eggs, thyme, salt, and black pepper.
Place in the baking dish and sprinkle with flaxseeds. Bake for 20 minutes, or until heated through and the cheese melted.
From Dr. William Davis'
Wheat Belly Cookbook
Raw Chocolate Cheesecake
Filling: Optional Topping: sprinkle of cacao nibs
1 c. cashews
1/2 c. macadamia nuts
6 T. honey
4 T. cacao powder
1/2 c. almond milk
1/2 tsp. sea salt
1 tsp. vanilla extract
2/3 c. coconut oil
Base:
​1/2 c. almonds
1/2 c. hazelnuts
1/2 c. raisins or dates
3 T. honey
4 T. cacao powder
1 tsp. vanilla extract
pinch of sea salt
Directions:
1. Soak the cashews and macadamias for 4 hours or more then rinse well.
2. Grease an 8 inch spring-form cake tin, then line with parchment paper.
3. For the base, process the almonds and hazelnuts in food processor or high speed blender until a crumb consistency forms. Add the raisins (or dates), honey, cacao, vanilla and sea salt until well mixed. Press the mixture into the tin evenly then refrigerate for at least 1 hour.
4. Melt the coconut oil.
5. For the filling, add the cashews, macadamias, honey, cacao, almond milk, sea salt and vanilla with the coconut oil in a food processor or high speed blender. Blend until smooth and creamy.
6. Pour the filling into the tin to cover the base evenly, then place in the freezer at least 2 hours.
7. Remove from the tin while frozen and leave it out to soften a little before serving.
8. Sprinkle with cacao nibs right before serving.
9. Store in fridge or freezer up to one week.
Substitutions:
* honey-maple syrup or rice syrup
* nuts-interchange with any nut you desire, such as brazil nuts, pecans, or walnuts
* cacao-carob
* almond milk-quinoa, hempseed or coconut milks
Prep time:
40 minutes
Total time:
6
hours, 40 minutes
Servings:
12
from https://www.rebootwithjoe.com/raw-chocolate-cheesecake-recipe/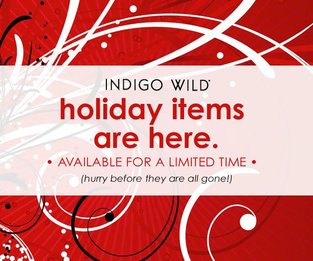 ​Finally, if you are looking for some good-for-you gifts or indulgences this holiday season, we have a full line of Indigo Wild Zum bath salts to create your favorite combo.
Two of mine follow:

Stress Relief:
frankincense & myrrh +peppermint

Calming:
lavender+rosemary+peppermint

All Indigo Wild products (ranging from Zum Christmas Chi laundry soap to Frankincense & Myrrh candle votives) are 10% off this holiday season!