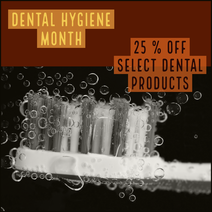 ​ "A warm smile is the universal language of kindness," William Arthur Ward. As October is
Dental Hygiene Month
, River's Edge highlights dental-health promoting products at 25% off. Caring for our mouths may be two-fold--gum health and clean teeth in the initial appearance of the smile, as well as the underlying issues that may be revealed upon closer examination.
In regard to appearance, the four ingredient Magic Mud® Whitening Tooth Powder featuring calcium bentonite clay and activated charcoal (with organic orange peel extract and organic mint extract) touts impressive results in a short period of time. Dr. Griffin Cole, DDS, NMD Holistic Dentist, testifies that the powder helps "strip stain and remove toxins" (
1
). Utilizing a
careful brushing method
, as it is a black powder, will help you enjoy the results. If looking for similar results but in a more traditional toothpaste, we also carry Magic Mud® brand activated charcoal fluoride-free toothpaste in three flavors including peppermint, cinnamon clove and wintergreen.
Additional cleaning may be accomplished through Premier Research Laboratories Medi-Dental Pack. Premier identifies Medi-Dental Pack as an effective, cleansing dental pack which contains premium quality bentonite clay and zeolite minerals. High quality clays and minerals have been used for centuries in many cultures to promote cleansing. In the past, certain sources were highly prized for their amazingly diverse cleansing effects. Bentonite is a smectite clay that has been formed through volcanic activity
(2
).
A smile not only shares an encouraging gesture but may reveal indications of overall health. The National Institute of Dental and Craniofacial Research identifies the mouth as a mirror of health and disease (
3
). "The mouth is a readily accessible part of the body and provides health care providers and individuals with a window on their general health status" (
3
)
As we continue to understand more about the biology of bacteria in our systems, we seek to colonize with healthy bacteria accordingly. Premier also produces DentaVen™ which encourages healthy microbiome, specifically for the mouth.
Premier describes DentaVen™ as a probiotic-based formula for superior oral health for adults as well as children. This product offers a specialized, patented strain of Streptococcus salivarius, a beneficial bacteria that commonly colonizes the oral cavity. Although beneficial, friendly bacteria act as an important foundational support in the mouth area, the oral cavity can often appear like a war zone in which non-native bacteria attempt to outnumber the resident beneficial bacteria. The total number count of beneficial bacteria may become imbalanced in relation to their non-native counterparts. (
4
)
In addition to maintaining good oral hygiene by brushing and flossing, DentaVen™ assists in supplying beneficial bacteria for optimal oral health. Taking one capsule daily supplies 500 million colony-forming units (CFU) of the unique BLIS M18™ strain of beneficial, friendly bacteria, S. salivarius, that is able to colonize and beneficially reside in the mouth. This specific strain of probiotic bacteria has been researched for its ability to promote healthy oral bacteria levels, an essential support for healthy teeth and gums. (
4
)
Finally, neem oil is a vegetable oil pressed from seeds of the neem (evergreen) tree. A number of small studies and generations of traditional use, all agree neem oil may aid in all of the following: prevention and reduction of gum disease, prevention of cavities, elimination of bacteria that causes cavities and inflammation in the jaw, prevention of bacteria and plaque from adhering to the teeth, enhancement of mouth immunity, and freshening breath.
After examining superficial appearance and systemic health, it is important to pause and consider oral history and current practices.
The principles of holistic dentistry, based on the research of Weston Price and Francis Pottenger, are as follows (
5
):
Eat nutrient-dense whole foods, properly grown and prepared.
Avoid root canals. If you have root canals that you suspect are causing disease, have them removed by a knowledgeable dentist.
Avoid mercury (amalgam) fillings. If you have amalgam fillings, have them removed by a holistic dentist who specializes in mercury filling replacement.
Orthodontics should include measures to widen the palate.
Extract teeth only when necessary, and then in such a way as to avoid leaving the jaw bone with cavitations, which can be focal points of infection.
Hopefully, the October Special of 25% discount on the above-mentioned products will inspire you to pursue greater dental care. As you maintain your own dental health, we encourage you as well to seek out a holistic dentist to encourage your best possible smile and assure the least disruption to overall health as a result of necessary dental interventions.