Co Enzyme Q10 is a natural antioxidant synthesized by the body. In general a Co Enzyme supports Enzymes in their various bio-chemical functions.Co Q10 is a vital participant in the chain of metabolic chemical reactions that generate energy within cells. It is found in every cell of the body and is present in higher concentrations in organs with higher energy requirements. Such organs where this concentration is higher are the Kidneys, Liver and the beloved HEART!

Research has shown that Co Enzyme Q10 is beneficial for heart health in several ways: it assists in maintaining the normal oxidation state of LDL cholesterol; increases circulatory health; supports optimal functioning of the heart muscle; shows tremendous support for heart vessels; and also helps maintain normal blood pressure levels.

Co Q10 has been proven to cut mortality rates in half for patients with heart failure as reported by researchers in Denmark at the Heart Failure National Association Meeting of the European Society of Cardiologists. The research team went on to explain that Co Q10 is the first mediation to improve heart failure mortality and stated that, "Co Q10 should be included as a standard treatment plan for any heart related conditions." They also presented that Co Q10, "reduced the risk of heart attacks by 50%."

So... the essentials in my mind... If anyone on your LOVE LIST this February is currently taking a statin lowering cholesterol medication, it is essential you give them the gift of Co Q10 to immediately start replenishing their Co Q10 levels! Why?... statin drugs work to lower your cholesterol in the same pathway your body uses to produce Co Q10, not only is this medication then lowering your cholesterol; but it also depletes the Co Enzyme that helps protect the heart and supports the actual cholesterol levels to remain within normal limits. Statin drugs block the synthesis of both cholesterol and Co Q10 which explains statin's common side effects of fatigue, muscle pain, muscle weakness and worsening conditions of the heart.

Signs of Co Q10 Deficiency include and are associated with high blood pressure, angina, arrhythmia, heart failure, problems with blood sugar regulation, gingival health and stomach ulcers.

The average daily diet will provide approximately 10-30 mg. of Co Q10 daily; however, it is recommended that over the age of 50 that supplement be added to reach the recommended dosage of 100-200 mg a day. Co Q10 is naturally derived from some of the following foods: Meats- beef liver, poultry, fish (sardines/mackerel/tuna) at 2/3 mg an ounce of these meats; Nuts- peanuts, sesame seeds, almonds, walnuts at 1/2 mg an ounce of these nuts;
Eggs;
Vegetables- spinach, broccoli, sweet potatoes, sweet peppers, garlic, peas, cauliflower and carrots.

Give the GIFT of LOVE... Co Q10... to support the HEART of the ONES YOU LOVE!

ALL Co Q10 products at Rivers Edge 10% OFF the Month of February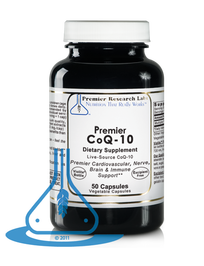 Premier Research Labs Co Q10 offers 100 mg dosage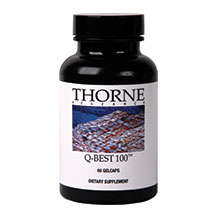 Thorne offers 2 Dosages of Co Q10 in their Q-Best products 50 mg and 100 mg