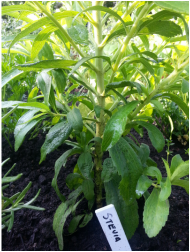 Stevia, a sweetener that has become
immensely
popular in recent years, is a 100% natural, zero calorie sweetener with a number of health benefits that have been confirmed in human studies.
It's even something you can grow in your own garden as I have! This picture is from my garden.
"Stevia is a small shrub-like perennial plant belonging to the sunflower family. The leaves of Stevia are a source of natural zero-calorie sweetener which is considered sweeter than sugar (sucrose)."1
"Recent scientific trials firmly establish that this sweet-leaf herb has, in fact, many health benefiting plant-derived phyto-chemical compounds that help control blood sugar, [heartburn, blood pressure, even mouth health,] in addition to its use as natural sweetener. Together with the rise in demand for low-calorie food alternatives, stevia has drawn the attention of health conscious fitness lovers all over the planet."2
Health Benefits

Blood Sugar Levels. Research has shown that Stevia may stabilize blood sugar levels, increase insulin resistance, and may even promote insulin producing by promoting the pancreas health, discourage glucose absorption in the blood, and inhibit candidiasis - a yeast infection that flourishes with sugar.1
Gingivitis. Studies show that antibacterial properties of Stevia may help with gingivitis, cavities, tooth decay and mouth sores. I may suppress the development and reproduction of infectious organisms in the gums and teeth, inhibit the growth of plaque and may improve overall oral health.

1

Heartburn and Indigestion. People of Brazil, Paraguay and Bolivia have been using Stevia tea to soothe upset stomach, heartburn and to improve indigestion and gastrointestinal function. Drinking Stevia tea after every meal may serve as a digestive aid and relieve heartburn and stomach pain.1
High Blood Pressure. A few longer term studies done over a period of 1 and 2 years show that Stevia may lower elevated blood pressure levels. Simply drinking Stevia tea twice daily may help stabilize the blood pressure levels.1
Stevia is available in organic grocery and herbal food stores in the form of raw dried leaves, white or green powder, sugar tabs, granulated and crystalline sugar, concentrate and flavored and non flavored liquids. When buying Stevia look for Stevia rebaudinana because it's considered the best type and the FDA approved sterol glycosides are extracted from this genus in the whole Stevia family.1
1.
http://www.homeremediesweb.com/stevia-health-benefits.php
2.
http://www.nutrition-and-you.com/stevia-plant.html