What We Believe...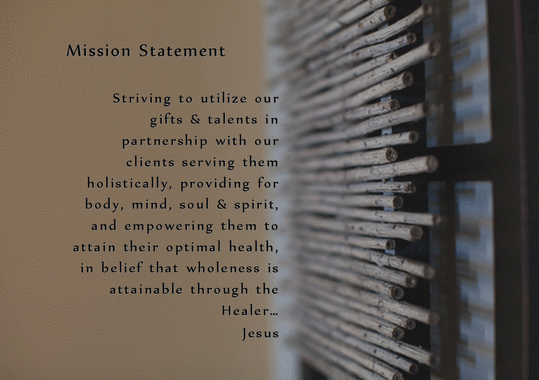 We believe that all people were created as spiritual, emotional and physical beings with individual personalities and physical make-ups. Thus, in working with our clients we strive to develop an individualized holistic health plan focusing on prevention, specific to their needs, which are proactive strategies to help them achieve and maintain optimal health.


We also know that as spiritual, emotional and physical beings many come to our offices with very specific needs: spiritual, emotional and physical needs. Our starting point, with each and every client, is determined by their point of reference the moment they walk through our doors. Our practice is designed to begin a journey of health and well being with our clients as they walk out their own individual lives.

We strive to be vibrant, life giving, hopeful and healing for everyone whose paths we cross here at Rivers Edge. We will be honest and forthright with our clients, desiring to walk in the highest integrity, as it reflects on our Creator and Lord.

We desire to be reflective of our Christian beliefs valuing every person, as an individual who deserves love, respect and honor regardless of their differing beliefs.

---