Testimonials
At Rivers Edge, we believe in giving our customers the best. While you can always take our word for it, you don't have to. Read what some of our customers are saying about us!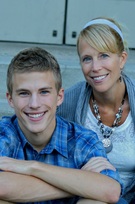 Finding River's Edge Natural Health has been an answered prayer and a huge blessing to us! My son, Tyler, had developed a severe digestive disorder, resulting in significant weight loss, and we were unsure if he would be able to continue his sophomore year of college. Hoping to avoid long term medications and surgery, we had tried various holistic approaches prior to coming to River's Edge, with mixed results.


Katherine has supported and guided us as we've changed Tyler's diet and fine-tuned his supplements, resulting in decreased symptoms and much needed weight gain! The journey he is on has been difficult and sometimes overwhelming, but Katherine's wisdom and encouragement have been exactly what we needed! After focusing our visits on Tyler, I made an appointment for myself and Katherine was able to help me with a persistent skin rash and dizziness that was affecting my balance. We are so grateful for the TLC we have received at River's Edge!

Kathy and Tyler
Indy
---
I had the opportunity of working with Katherine on some minor health issues13 years ago, after feeling much better I lost contact with her. In 2013, after a routine heart scan, I was notified to see my Dr. immediately because they had found some "questionable spots on both lungs." I found this odd, because at the time, I was unaware that these scans included the lungs. After a whirlwind appointment with my doctor and an urgent appointment with an oncologist, I stepped back, took a breath and decided to contact Katherine. I knew if this was my walk in life I wanted to do all I could to make my body, mind and spirit healthier in order to fight this medical problem.

I was seeing the usual mantra of doctors and specialists and was very pleased with my treatment plans. I was 60 at the time and attributed my allergies, arthritis, fibromyalgia, migraines, exhaustion, constant colds/virus's, weight gain, digestive problems and cough to aging. I was certain I had "aging diseases" and would deal with it gracefully.

The first thing Katherine asked was "how do you feel?" which I replied, "just the way anyone getting older should feel with the usual aches and pains." Katherine smiled and said, "Yes you are getting older; but you can be old and sick or get older and feel good!"

After we'd spent some time together that appointment, Katherine proceeded to tell me some of my medical problems that I had not shared with her yet. Here I thought I was only there for my lung issues, she had more in mind for my overall health! Over this past 2 year period Katherine has educated me on the connections of the systems of the body, how foods and stress can effect these systems and how aging is a natural process, but feeling healthy is attainable in that process. Katherine taught me how to support and heal my body with vitamins, herbs and by eliminating certain foods. My entire perspective has changed on how I look at my future and aging "gracefully".

Currently, I do not need my inhaler or allergy medications, I no longer use 3/4 Aleve a day, I have not had a virus or cold for 2 years, I do not have high blood pressure any longer, my pre-diabetic state has corrected itself in the process, I am not taking antidepressants any longer, my weight is down, I can eat without worrying about cramping, my inflammation and arthritis are under control and the spots on my lungs are no longer a concern. I will see my oncologist for my final appointment and release in October 2015 and I couldn't be happier!

I am still learning how to keep my body in a healthier state and I do have days I am not so good; but those days are more easily corrected now. I still take vitamins and supplements, but I know these are a path to health not a mask of symptoms or just keeping something controllable and worrying what else I am doing to my body.

Katherine, for me, has become not only a mentor in the area of my health; but also in my spiritual life. I thank God daily for my relationship with Katherine, her staff and the gifts "Rivers Edge" bestows upon me.
Diane S.
Peru, Indiana
During spring of 2003, I received results back from an MRI showing I had two herniated discs, the back of an 80 year old woman and a doctor recommending back surgery. Over the next few months I began to seek alternative options. A friend introduced me to Katherine Lehman at River's Edge. I began working with Katherine bi-monthly and my entire family now continues to have regular appointments and phone consultations even during a period while we lived in Iowa. There are too many specific things to list that Katherine has helped our family with but I will name a few:

Helped eliminate on-going back pain that I had for over 10 years.
I went from a size 10/12 to a 4/6 without any effort; it just happened from implementing the things I learned from Katherine.
Katherine taught our family simple and manageable steps to creating a healthy lifestyle.
Opened our eyes to the joy of learning simple tools that we can do at home on our own to create healing.
Walked me through four pregnancies, providing nutritional counseling, physical and emotional support. Katherine's support enabled me to walk out my dream of having a natural hospital birth-- and then growing further so I could have three homebirths!
Worked alongside my husband empowering him to see more of his gifts and be confident as the leader of our home while simultaneously helping me to trust my husband's leadership and give him space to lead and grow.

Through my sessions with Katherine, I have gained priceless insight and knowledge about how God designed our bodies and simple ways to live in optimal health, minimizing illness in my family by building our immune systems.
Beth
Fort Wayne, IN
River's Edge Natural Health has walked along side our family's journey toward health, wellness and wholeness in a friendly, non-judgmental and Christian atmosphere. I began seeing Katherine 10 years ago because I had severe back and hip pain. She is gifted in body work modalities and helped align my back and hips returning them to the optimal functioning in order for me to be a more active mom, teacher and wife. The alignment was part of the process; in addition, she was able to help me get to the root of the issue. I have learned that many times there is an emotional component that contributes to our health issues and she helped me get in touch with those roots.

Katherine has also helped my husband and I increase our energy levels through supplementation and diet. My husband had some health and heart issues which are much better now. We have two children who also benefit from our visits, Katherine suggests vitamin/mineral supplementation that they may be deficient in. My daughter is one who gets a little worried about school, friends, etc… She is able to get her talking about these things out during visits too, so they don't get "stuffed down deep and way inside" leading to health issues. Our son is all boy and quite active, it's always nice when he gets aligned on his visits so he does not acquire bad form which could lead to the hip and back pain I experienced. If you are looking for a natural way to improve you or your family's health, River's Edge is a place you should check out! Our family has been truly blessed by the River's Edge staff. We are happier, healthier and more whole as a result of our sessions.

Helen Wife, Mom, High School Teacher
Huntertown, IN


Upadate on Testimonial...
Ron, my husband originally diagnosed with COPD, (see statements in 2012 below), has had a clean bill of health with his NEW diagnosis being... NO MORE COPD for 1.5 yrs. now and still going strong! His pulmonologist said, "Ron whatever you're doing, keep doing it!" He has been off his inhaler and other COPD medications for a little more than 1.5 yrs. After almost 15 yrs. of COPD diagnosis and numerous bouts with bronchitis and pneumonia, he has been free of all that goes along with a COPD diagnosis heading into our 2 year mark!! Thank you Katherine and Rivers Edge...

Original Testimonial in 2012
My husband suffers from COPD, a condition he's had for many years. Katherine Lehman, at Rivers Edge, has been working with him for the past few years, with much success. His COPD has stayed at a mild level with the help of natural supplements along with medication prescribed by our family doctor. He's been able to breathe much better. We have been so pleased with the care and help that we've received from Rivers Edge!

Carole (and Ron)
Greenwood, Indiana


The ministry at River's Edge has forever impacted us. Beginning my work with Katherine six years ago, I quickly saw how she, as well as Stephanie could aid myself, my husband, and my (then) two children. Katherine brought greater healing to me physically through bodywork, suggesting dietary changes, and offering appropriate herbal supplements. While the symptoms subsided, she bravely delved deeper into emotional and spiritual issues; working alongside with Stephanie as I came to a mind-body-soul-spirit level of healing like I had never before experienced. The care I have sought from these practitioners has ranged from expediting recovery for my husband (after shoulder surgery), aiding pain management when a child's accident resulted in second degree burns, to assistance in childbirth and postpartum both physically and mentally with my third and fourth children. Our family covenant that we first drafted four years ago, as a result of a session with Stephanie, continues to be revisited, reshaped and central to our family's commitment to Him.

When Paul encourages the Thessalonian's in his first letter, chapter five "12 Now we ask you, brothers and sisters, to acknowledge those who work hard among you, who care for you in the Lord and who admonish you. 13 Hold them in the highest regard in love because of their work. Live in peace with each other," his words too may be applied to how we regard the women at River's Edge. Undeniably our family is physically healthier and spiritually stronger because of their efforts to work on our behalf for the glory of the Lord.

Rebecca, Brian and kids
Carmel, Indiana