RECIPES
Beef Soup Recipe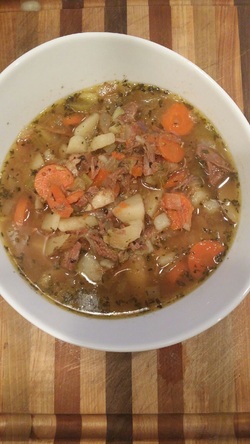 1 lb. grass fed beef
6 cups bone broth*
4 cups fresh water
1 large organic onion
4 organic carrots
3 organic celery stalks
3 medium red potatoes (optional)
Sea salt to taste
1 tsp. thyme
1 tsp. oregano
1 tsp basil
Sauté onions at medium heat. Add chopped celery and continue to sauté. Add carrots and potatoes. Sauté until ingredients are tender. Add sea salt and spices. Transfer to stove top or crock pot. Add meat.
*See Katherine's blog on how to make your own
beef broth
.
---
Black Bean Soup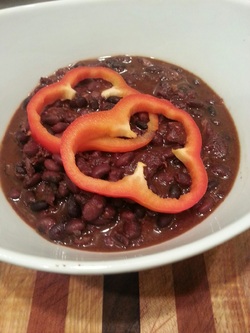 1# of Black Beans (approx. 2 1/2 Cups)
3 Cups of Organic Chicken Broth (or Vegetarian Broth if you're a Vegan)
1 Medium Onion
2 Garlic Cloves
1 Tsp. Oregano
1 Tsp. Cumin
1/2 Tsp. Crushed Red Pepper
1 Red Pepper

I soak the black beans overnight in about 2 cups of water. The next day combine the above ingredients (except the red pepper). I cooked it in the crockpot for 4 hours. When ready to serve slice up the red pepper to put on top.
---
Breakfast Smoothie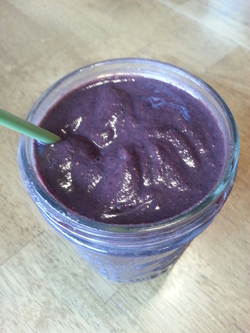 Delicious and healthy breakfast smoothie!

1/2 C. Blueberries, frozen or fresh
1 Banana
1 Tbsp. Chia Seeds
1 Tbsp. Flax Seed
1/4 C. Coconut Water
2 Tbsp. Protein Powder Mix (I used Lean Whey by Premier Research Labs)


---
Green Smoothie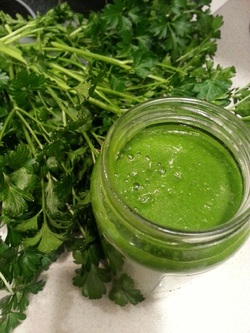 Try this delicious and healthy smoothie. I made it using the last of the parsely from my garden. As with any smoothie, ingredient amounts can be adjusted to fit your tastes.
Parsley - to taste
Kale - 2 leaves
Green apple - 1 whole
Lime - 1/2
Lemon - 1/2
Ginger - to taste
2 cups of ice
Optional - 1 cup unsweetened almond milk or apple juice
---
Blueberry Muffins
There's is something special about a Blueberry Muffin! (Especially one WITHOUT gluten, refined sugar & pasteurized dairy)
Ingredients:
- 2 1/2 cups almond meal
- 1 tbsp coconut flour
- 1/4 tsp salt
- 1/2 tsp baking soda
- 1 tsp vanilla
- 1 tsp cinnamon
- 2 tbsp honey
- 1/4 cup melted coconut oil
- 2 eggs
- 2 cup fresh or frozen blueberries (we increased the amount of blueberries)
Directions:
Preheat oven to 350. Line a 12 count muffin tin. In a mixing bowl, add dry ingredients (almond flour, coconut flour, salt, cinnamon and baking soda) and stir to combine. Pour in coconut oil, eggs, honey and vanilla; mix well. Fold in blueberries. Distribute into muffin tin. Bake for 20-25 minutes. Allow to cool and enjoy!
Adapted from recipe in:
http://www.amazon.com/gp/product/1936608936?ie=UTF8&camp=1789&creativeASIN=1936608936&linkCode=xm2&tag=wwwhomesteadi-20
---
Summer Berry Coconut Milk Ice Pops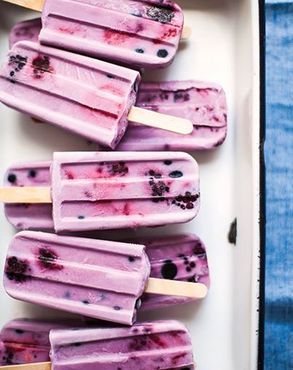 Recipe From Growing Organic, Eating Organic
⅔ Cup thinly sliced ripe strawberries
⅔ Cup ripe blueberries
⅔ Cup ripe blackberries
⅓ Cup plus 1 tablespoon natural cane sugar
½ teaspoon ground cardamom
1 (13.5-ounce) can full-fat coconut milk
Combine the strawberries, blueberries, and blackberries with the sugar and cardamom in a small saucepan. Cook over low heat, stirring regularly, for 5 to 7 minutes, until the berries are soft but not falling apart—they should be a little jammy. Remove from the heat and stir in the coconut milk. Carefully pour the warm berry mixture into a pitcher. Pour the mix into 3-ounce molds, helping some of the berries along with a spoon so that they're evenly distributed. Freeze for at least 4 hours. The ice pops will last a month in the freezer.
Makes 10 (3-oz) pops.
You can learn more here about the book this recipe is from:
http://goo.gl/yAZt2c
Shared from Natural Living and Parenting
— with Jia Naushad and Amna Umer.
---
Ginger Cookie Recipe*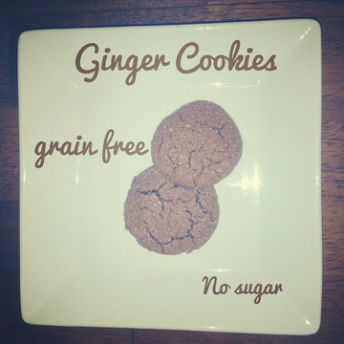 This recipe is for grain-free, sugar-free Gingerbread Cookies. Thanks Gregg (one of our clients) for the great recipe with revisions! These cookies are rich with spices, including: ginger, nutmeg, cloves and cinnamon. Eat them plain, spread with cream cheese, or dip in coffee…a great cookie no matter how you choose to indulge! (This dough can also be rolled out to make gingerbread people.)
Ingredients
3 cups almond meal/flour
¼ cup coconut flour
½ cup ground golden flaxseeds
1 tsp. ground nutmeg
½ tsp. ground cloves
½ tsp. fine sea salt
2 tsp. ground ginger
¼ cup gluten-free, sugar free-maple syrup
1 ½ tsp. ground cinnamon
1 tsp. baking soda
¼ cup coconut oil, melted

1 egg

1 tsp. unsweetened cocoa powder

2 tsp. vanilla extract

Directions
Preheat oven to 350F. Line 2 baking sheets with parchment paper.
In a large bowl, whisk together the almond meal/flour, coconut flour, flaxseeds, ginger, cinnamon, baking soda, cocoa, nutmeg, cloves and salt.
In a small bowl, combine the maple syrup, coconut oil, egg, and vanilla. If you want a flatter (not so doughy cookie) add more coconut oil – ¼ cup. Whisk until smooth. Stir into the flour mixture until well blended.
Shape into 1" balls and place on baking sheets. Flatten to ¾" thickness. Bake for 15 minutes, or until the cookies are golden around the edges.
Let stand on parchment paper for 2 minutes, immediatley remove and place on cooling racks to cool completely.
Gregg's Tips:
Use the same measuring cup for all ingredients. I use a steel set.
Bake on parchment paper, very important!

Remove cookies and cool on cooling rack. This keeps the cookies from becoming too soft and falling apart.

IF Diabetic or glucose intolerant, use ½ cup liquid Stevia or Joseph's Free Syrup.

I use Almond meal flour and Coconut flour by Bob's Red Mill.

*Adapted from the original recipe in the "Wheat Belly Recipe Book"
---
Berry/Orange Protein Smoothie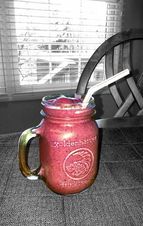 When winter gray has you sluggish and blue, pep up with a Berry/Orange Protein Smoothie! In the Vitamix and/or Ninja- Mixed berries, an orange, almond/coconut milk, raw protein powder and a few cubes of ice (optional)... Drink up and pep up!!
---
Favorite Chocolate Syrup Recipe
Easy & Delicious Chocolate Syrup

Ingredients:
1 Tbs. Coconut Butter
2 tsps. Cacao
2 Tbs. Maple Syrup

Add fruit for dipping and enjoy!


Immune Building Smoothie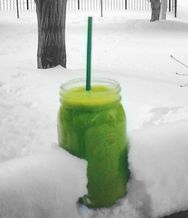 Our need to build our Immune is just as strong now as it was in the beginning of the winter due to such a LONG and harsh winter season! What better way than to make yourself a "Green Juice" which actually has 3x's the amount of Vitamin C in it than your typical orange or citrus fruit.

Kale, Chard, Broccoli, Parsley, Green Apple, Lime and Coconut Water... Yum!!
---
Organic Hearty Chicken Vegetable Soup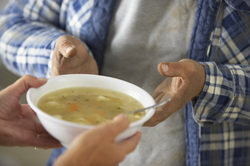 Ingredients (Natural is good, but Organic is always better)
4 cups water
1 3/4 cups organic chicken broth or broth used from boiling whole organic chicken*
1 whole organic chicken
1 medium onion, chopped
2 tablespoons olive oil
1 garlic clove, minced
4 medium carrots, cut diagonally into 1/3-inch-thick slices

2 celery ribs, cut crosswise into 1/3-inch-thick slices
1 teaspoon sea salt
1/4 teaspoon black pepper
3 tablespoons finely chopped fresh parsley
Preparation
Bring water and broth to a simmer in a 2- to 3-quart saucepan. Add chicken and simmer, uncovered, 6 minutes. Remove pan from heat and cover, then let stand until chicken is cooked through, about 15 minutes. Transfer chicken to a plate and cool 10 minutes. Reserve poaching liquid, uncovered.
While chicken is poaching, cook onion in oil in a 4-quart heavy pot, covered, over moderate heat, stirring occasionally, until softened but not browned, about 6 minutes. Add garlic and cook, stirring, until fragrant, about 1 minute. Add carrots, celery, salt, and pepper and cook, covered, stirring occasionally, until softened, 8 to 10 minutes. Add poaching liquid and simmer, covered, until vegetables are tender, about 10 minutes. Remove from heat.
While vegetables are cooking, shred chicken into 1/4-inch-wide strips (about 1 inch long). When vegetables are done simmering, stir chicken into soup along with parsley.
*If you need help making your own chicken broth, here's a
basic stock recipe
from Sally Fallon's
Nourishing Traditions
!
Adapted from
http://www.epicurious.com/articlesguides/healthy/nutritiousdishes/flufightingfood/recipes/food/views/Hearty-Chicken-Vegetable-Soup-107411
---
Katherine's Protein Smoothie
Proteins are the building blocks of your body...

Ingredients:
1 scoop of lean whey protein (I use Premier Research Labs)
Coconut Oil
Coconut Milk
Chia Seeds
Flax Seeds
Mixed Berries
Bee Pollen (on top)
---