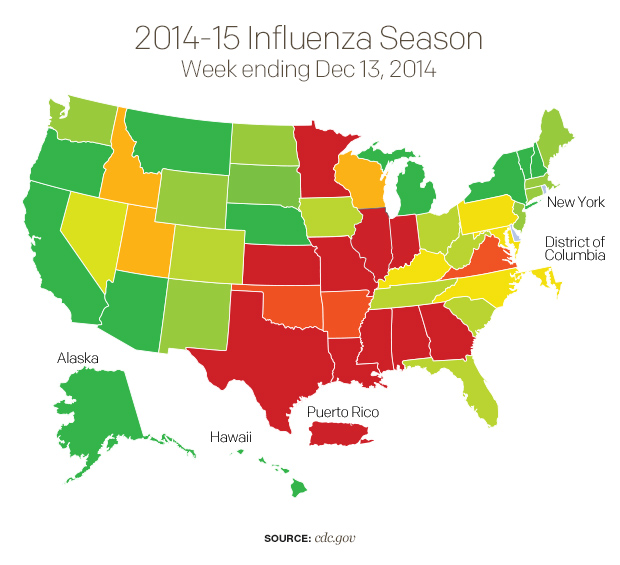 Health experts say part of the problem is that
this year's vaccine doesn't provide protection
for H3N2, the strain of the influenza that's currently making the rounds. This year's vaccine does help protect against H1N1 and one or two strains of influenza B.
"The stuff that's circulating out there is different than what they made the vaccine against," said CBS News chief medical correspondent
Dr. Jon LaPook
.
The U.S. Centers for Disease Control and Prevention
reports widespread flu activity in 29 states
, primarily in the South and Midwest. That's twice as many states as the previous week.
Most of the patients who have been hospitalized with
severe cases of the flu
are either very young or the very old. In recent days flu outbreaks have forced schools in Ohio, Tennessee, Georgia and North Carolina to close.
So far this season, the virus has killed 11 children.
Describing the pattern of this year's outbreak, Dr. Anne Schuchat, director of the CDC's National Center for Immunization and Respiratory Diseases, told CBS News, "There's almost like a Christmas tree right in the middle of the country of the hot spots for disease."
Thirteen states reported high levels of influenza-like illnesses, while another six states saw moderate activity.
Sourced at CBSNEWS :
http://www.cbsnews.com/news
Rivers Edge has a multitude of Immune Building Supports for you and your family, whether you have been under the weather this winter already and/or DO NOT want to succumb to the flu and all other "ickies" out there, we be happy to be your one stop shop for your
WINTER IMMUNE BUILDING ARSENAL!
Some of Our Offerings Include, but are not Limited to
:
* NucleoImmune by Premier Research Labs
(15% OFF thru January)
* Colostrum by Premier Labs
(20% OFF thru January)
* Vitamin C Chewables by Nature's Pharm Source ,HomeFirst
* Buffered Vitamin C by Integrative Therapeutics
* Immuno ND by Premier Research Labs
* Elderberry Immune Gummies by Nature's Sunshine (for kids & Adults alike)
… AND, of course, a Wide Array of Vitamin D3's