Katherine Lehman, ND, CNHP, DTR, CGP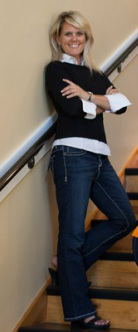 Katherine views each life endowed with value from the Creator. Her passionate commitment to see individuals fully realize their God-given purpose underlies each client's experience at River's Edge. This truth requires a non-traditional pursuit of optimal health which Katherine's esoteric insights into each facet of full-body wellness assists clients in bringing about their complete utilization of personal gifts. These core beliefs have been enriched by Katherine's educational pursuits, apprenticing and professional organizations. Her ability to address emotional, physical and spiritual needs of others has grown over nearly 20 years from diverse and rich practice in the wellness field.
Katherine earned a Dietetics degree and a BA in Food and Nutrition Management from Ball State University; utilizing her expertise in clinical nutrition at several hospitals, school lunch programs and nursing homes. Professionally, Katherine is involved with the American Association of Nutritional Consultants and registered through the Academy of Nutrition and Dietetics. Katherine has also been trained in
Levels I & II Emotional Freedom Technique (EFT)
that is in the same vein as
Eye Movement Desensitization and Reprocessing (
EMDR
) therapy
and well on it's way to becoming an evidence based practice, with many studies supporting its use for healing of trauma.
Noting that true health and restoration of illness required much more than dietary modifications, Katherine sought out well-known experts in the field of alternative therapies. She has been blessed to study under well-known, Amish Herbologist, Solomon Wickey and the late Dr Jim Shoemaker, D.O. Katherine spent three years under the tutelage of Solomon's, nearly four decades of pioneering practice of Iridology, Herbology, Releasing, Kinesiology and Nutrition. At that same time, participating in a mentoring practice with Dr. Jim, who enhanced her study of Homeopathics, Trigger-point Release, and the spiritual root of illness.
Katherine's advanced education includes a Doctorate of Naturopathy from Trinity College of Natural Health in 2006, the completion of her CNHP (Certified Natural Health Professional) and study under Dr. Barry R. Gillespie for Cranialsacral Fascial Brain Therapy and lastly becoming an ordained minister in 2014. Most recently, her continuing education has revolved around the work of Dr. Robert Marshall, Premier Research Labs, utilizing Quantum Cell Resonance Products and Quantum Reflex Analysis (QRA). Katherine is also tapping into the local expertise in the field of integrative medicine, highly regarding the work of Dr. Kevin Logan (The Logan Institute of Health & Wellness) and Dr. Dale Guyer (Guyer Institute of Molecular Medicine) and expanding her understanding and resources of Internal Biochemistry and Molecular Medicine.
---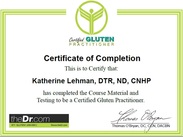 Katherine is a Certified Gluten Practitioner (CGP) and able to provide personalized gluten sensitivity care to her patients.
---
Stephanie Myers, BS, CNHP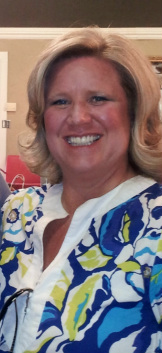 Stephanie, a graduate of Johnson University in Knoxville, TN, with a bachelor's degree in Counseling and Youth Ministry, started off her career working at residential treatment centers. After almost seven years (1996), she started her own private practice, creating
HGCF, Home-Based/Goal-Focused services for Children & Families
. Since the inception of her company, she has been helping serve the needs of Indiana's children and families. Working with the DCS (Department of Children and Family Services); HGCF feels it an honor and privilege to continue serving the following counties: Tippecanoe, White, Fountain, Benton, Carroll, Cass, Johnson, Hamilton, Montgomery, Hancock, Tipton, Madison, Howard and Marion Counties.
2004, a turning point for Stephanie, was the year that she crossed paths with Katherine Lehman. Having suffered from a variety of health issues, a mutual friend coaxed her to make an appointment with Katherine. She began seeing Katherine on a monthly basis and within a year stated, "I've never felt better in my life!" as evidenced by her labs and quality of life. This began a trusting friendship which flourished into an interest in the natural health field. Stephanie went on to become trained in CranioSacral Fascial Brain Therapy in 2006 as well as a Certified Natural Health Professional and most recently becoming an ordained minister in 2014. Stephanie also attended the Emotional Freedom Technique (EFT) Training Levels I & II in 2016.
Working with Katherine at Rivers Edge since 2007, the two combined forces and Rivers Edge opened at its newest location November 1st, 2010. Stephanie states, "Our vision is to extend these services to all individuals and families who desire an alternative approach to their health concerns despite financial abilities and barriers that would keep them from seeking us out."
---